TENDANCES FEMME 2011/2010/2009
Lingerie as outer wear
Right now you're thinking that this is nothing new. And you're right; it's an extension of the sheer trend that's has, for some time, firmly cemented itself as its own, independent trend. So what follows is, instead, more about how to wear the trend now, and how to set yourself apart from the masses - so that you can bring it forwards and into a new league.
(1st preseneted by Chiristain Dior)
The last time we saw a shift towards lingerie as outerwear was the 1980s, and while I exude a general disdain for that decade I can't help but admit that certain fashion elements which emerged from it do have a place in this decade and the next. And so it is that we see various pieces of underwear return to the fore as outwear to feature amongst and 2010 fashiontrends.
Tight High heel boots over
knee length FW 09/10
One Shoulder return again 2009 S/S fashion
Grecian Goddess Draping: Spring/Summer 2009 Trend
It's a logical flow-on from the
Runway
DRAPPING ,OVERSIZE BOW s/s 2009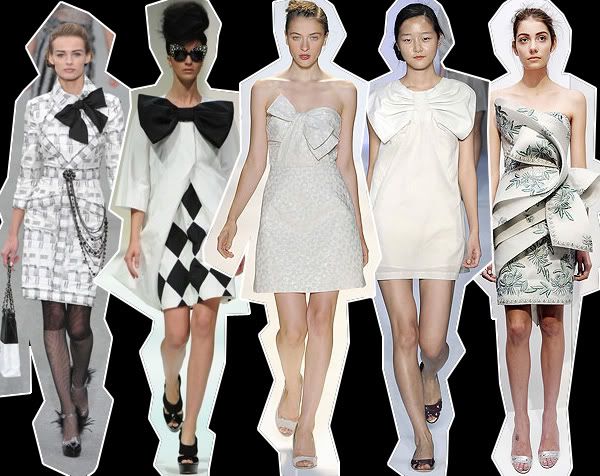 SPARKING EMBELLISHMENT .FRINGED